PICMG 2.15 PTMC DSP Module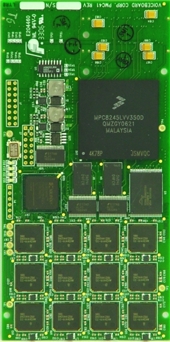 Voiceboard's Industry Standard PTMC41 DSP resource board provides media conversion on 240 ports, with flexible access to the H.110 or SCSA backplane TDM bus and the carrier board's local PCI bus. PTMC41 provides configurations up to 6400 mips processing power, supporting 240 ports.

The PTMC DSP runs a wide variety of off the shelf downloadable communications software.

PTMC41 adds functionality to communications products including:
Real time multiprocessing of communications media datastreams
Support for up to 8 T1/E1/J1 span bearer channels
Detection and generation of communications signaling tones
Large scale conferencing
VoIP, including CCITT standard G.7xx vocoders
SIP, H.323 or MEGACO Gateway runs on PTMC Processor
Terminating and relay G3 Fax and V.90 data modems
128 Msec G.168 echo canceller
DSP Development Kit (SDK) for customer provided DSP software
Compatiblity with both cPCI and VME products from Voiceboard
Click here to download

of Product Spec Sheet
©2003-2004 Voiceboard Corporation. All rights reserved.